NOTICE OF MEETING BY VIDEOCONFERENCE The Board of Education of Franklin Public Schools will meet at 8:00 pm on Monday, April 13, 2020, by videoconference. Public and media access to the videoconference is available by clicking on the link posted on the district's website under the live feed section at
http://www.fpsflyers.org
. Password: flyers

Andrea Schurman Senior Spotlight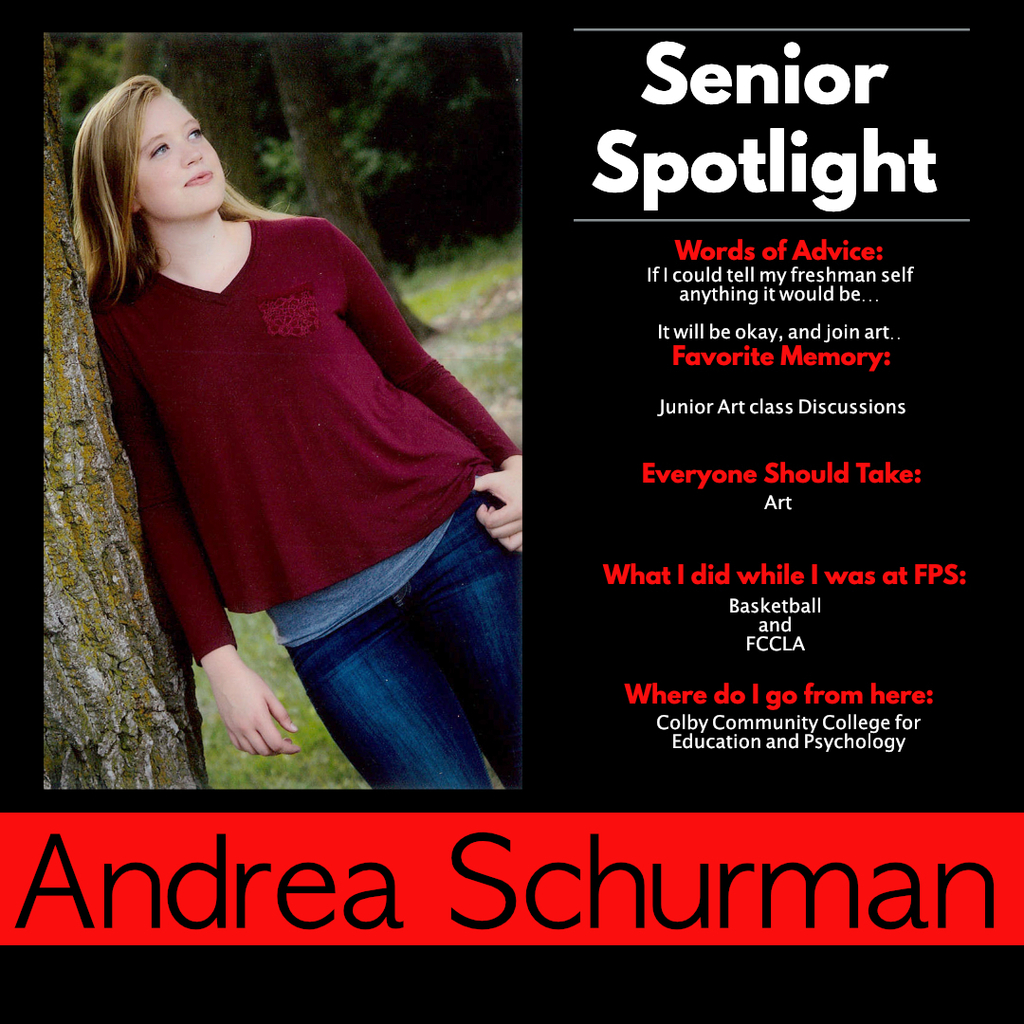 Alyson Lunsford Senior Spotlight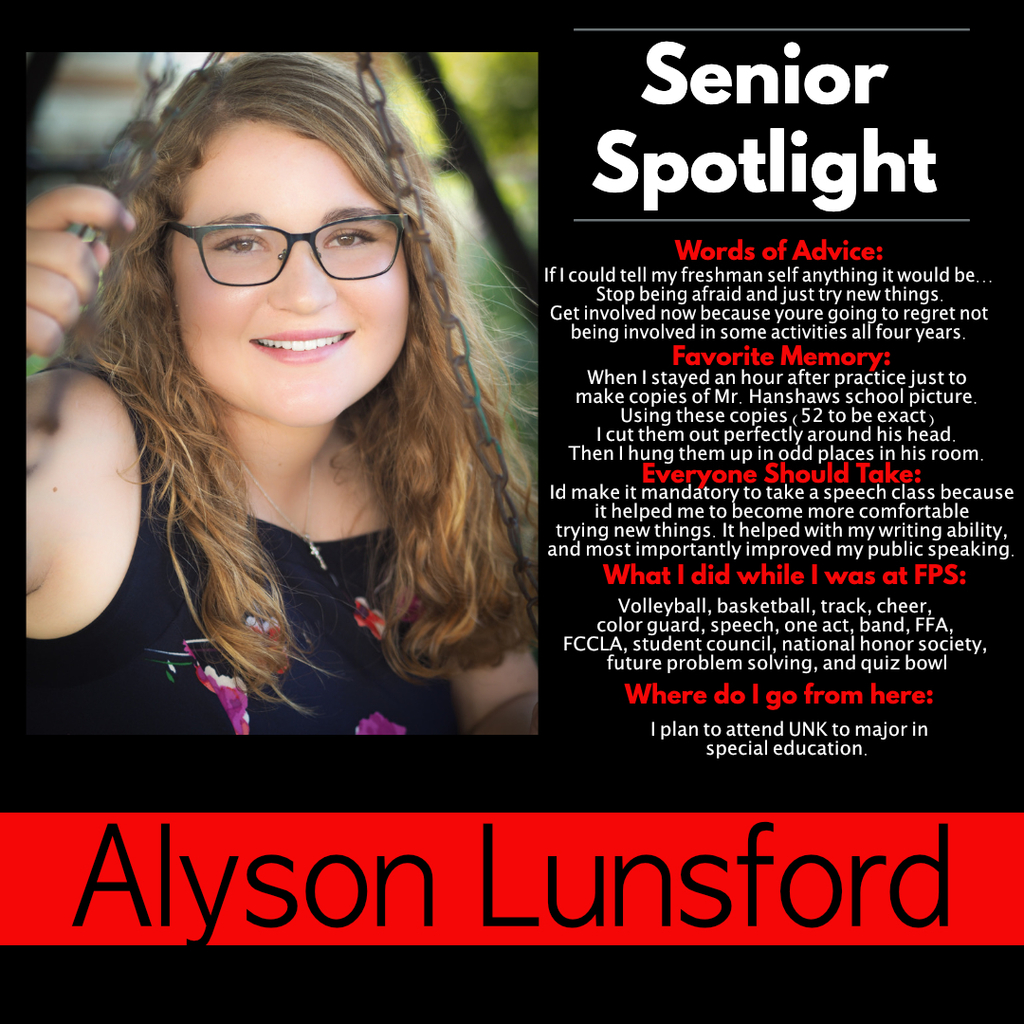 Reminder: Wednesday, April 8, from 8 am-noon, one person from each family will be able to pick up your students' belongings left at school. Please return any school items such as library books, calculators, etc. Student belongings will be at the main entrance of the High School. A staff member will be present to help. Thanks to those who helped sort the items for each family. It was a big job!
Just Keep Reading...Reading....Reading

Alexis Plank Senior Spotlight

Abigail Cleveland - Senior Spotlight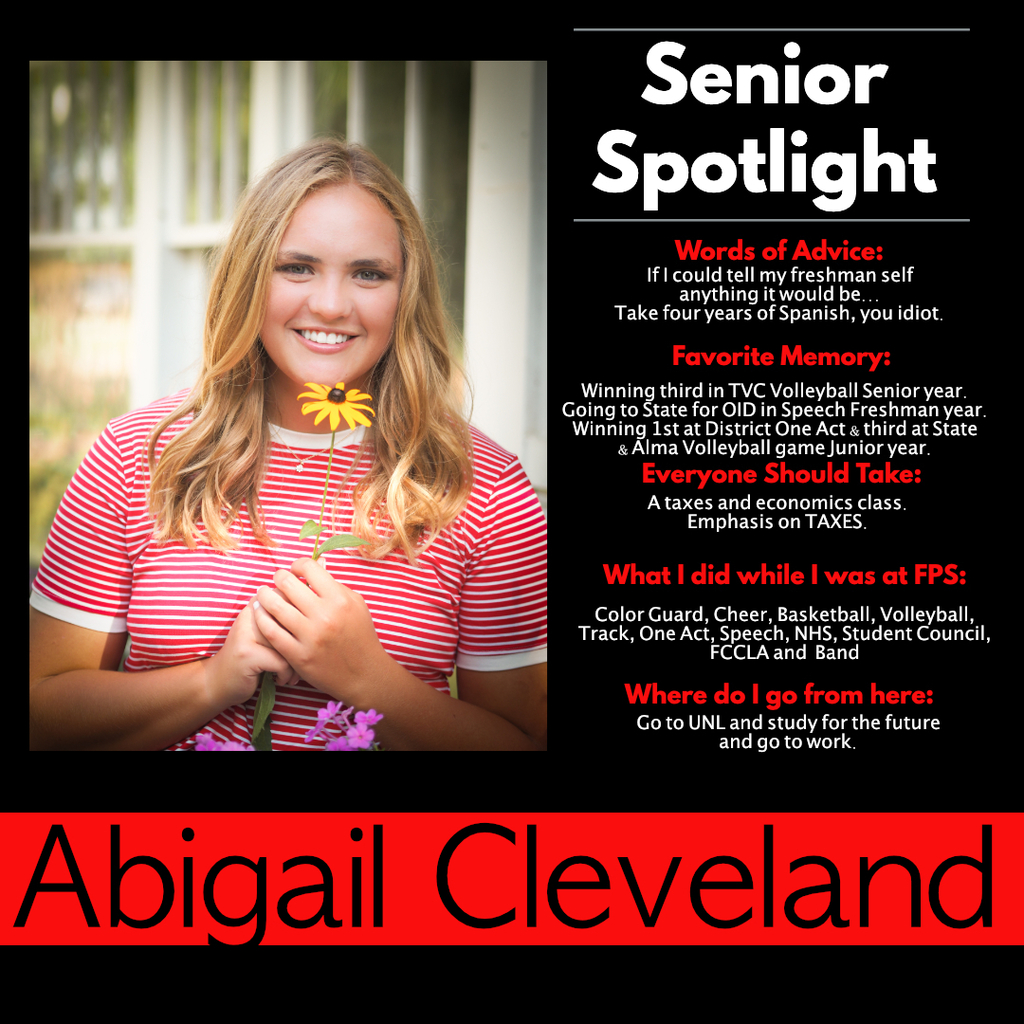 Earlier this week, Gov. Pete Ricketts, directed schools statewide to operate without students in their buildings through Mary 31, 2020. He also announced extracurricular activities canceled and playgrounds closed since this is not a safe place for students during this pandemic time. Please help us in urging children and young adults to practice social distancing. Even though formal education in our building has stopped for the year, the opportunity to learn is continuing. Franklin Public Schools will continue with sending enrichment packets to our students throughout the end of the school year. Please continue to support your students in this continuity of learning. Questions rose as to why FPS chose to go with "enrichment packets" instead of e-learning. Internet accessibility in our area has always been a concern. The internet and cell phone companies that are offering free internet to students are the same companies that are not able to provide web or dependable service to Franklin before COVID-19. Many of the students we serve at FPS do not have access to internet services, and if they do, bandwidth and or speed is not adequate to perform studies. I have spent many hours on the phone, in zoom meetings and conversation with Governor Ricketts, Commissioner of Education, Dr. Matt Blomsted, school lawyer, and FPS Principals to gather knowledge and advice. These are trying times that this nation has never faced before, and I pray will never encounter in the future again. The decision to go with enrichment, right or wrong, is the decision that I felt would best serve the students unique to our school district. Equity and students' needs are at the top of my list. Students will be promoted to the next grade when the 2020-2021 school year begins. Since beginning our meal program, we prepare 126 meals a day. School is the distribution site for students in Franklin. Staff members are making deliveries to homes in Upland, Riverton, Naponee, and Bloomington. If you would like to receive food and you did not sign up, please call the school at 308-425-6283 Ext. 30 and leave a message with your name, address, phone number of children and adults needing meals. Mark your calendar! Wednesday, April 8, from 8 am-noon, one person from each family will be able to pick up your students' belongings left at school. Please return any school items such as library books, calculators, band instruments, etc. Student belongings will be at the main entrance of the High School. A staff member will be present to help. Prom and Graduation are postponed indefinitely. When plans become finalized, we will post them. While this could be several months down the road, I urge you not to give up hope. FPS teachers have been busy working at school and home preparing enrichment packets, writing letters to students, working on curriculum, attending live teacher and zoom meetings. Please do not hesitate to call if you have any questions. 402-340-6103 Stay safe and healthy! I miss seeing all the students. Dr. Candace Conradt

Congratulations to the following students for qualifying for Summer Honors. Any questions about accepting or declining can be directed to Mrs. Haussermann. Any updates about Summer Honor status will be added to our website as the information becomes available. Landon Boettcher - Film Stephen Aberle - Computer Science- The Art of Digitizing Claire Harrison -Creative Writing- Underrepresented Writers Grant Kahrs-Agriculture- Nebraska Environment Joseph Aberle-Math- Joseph Kahrs-Agriculture- Nebraska Environment Logan Wentworth-Engineering* Matthew Ayres - Logic- Generate a community of inquiry Michelle Falkenstine - Agriculture- Nebraska Environment Tucker Rose -Agriculture- Nebraska Environment

Public Service Announcement: The need for blood donations is high, there will be a Red Cross Blood Drive next Tuesday, April 7th at the Ag Center from 12:00 pm to 6:00 pm. Please consider donating if you can. For questions contact Charline Gerdes at 308-425-3011 or 308-470-0575. Or you can sign-up online at redcrossblood.org

Successful Beginning for FPS Meal Program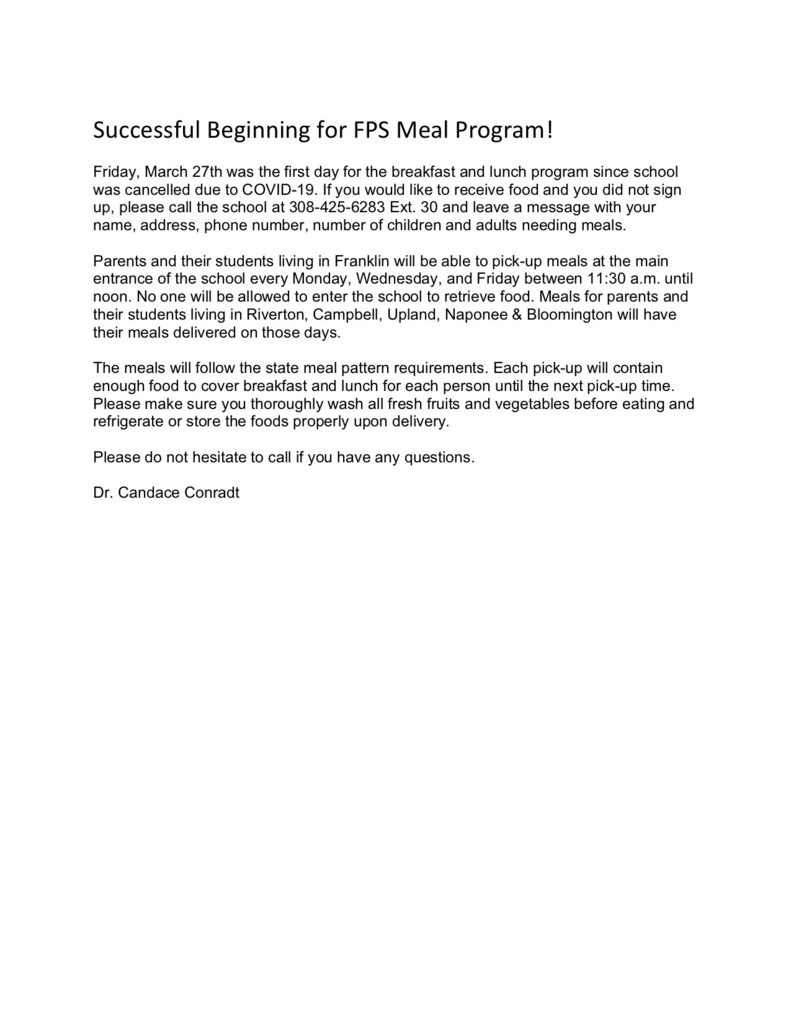 Franklin Public Schools Update on School Closure - March 25, 2020

Congratulations to the 2019-2020 Twin Valley Conference All-Conference Basketball Team's and All-Star Teams. For Franklin this includes Abigail Yelken: TVC First Team All-Conference, Joseph Aberle: TVC All-Conference HM, and Ryan Weiss TVC All-Conference HM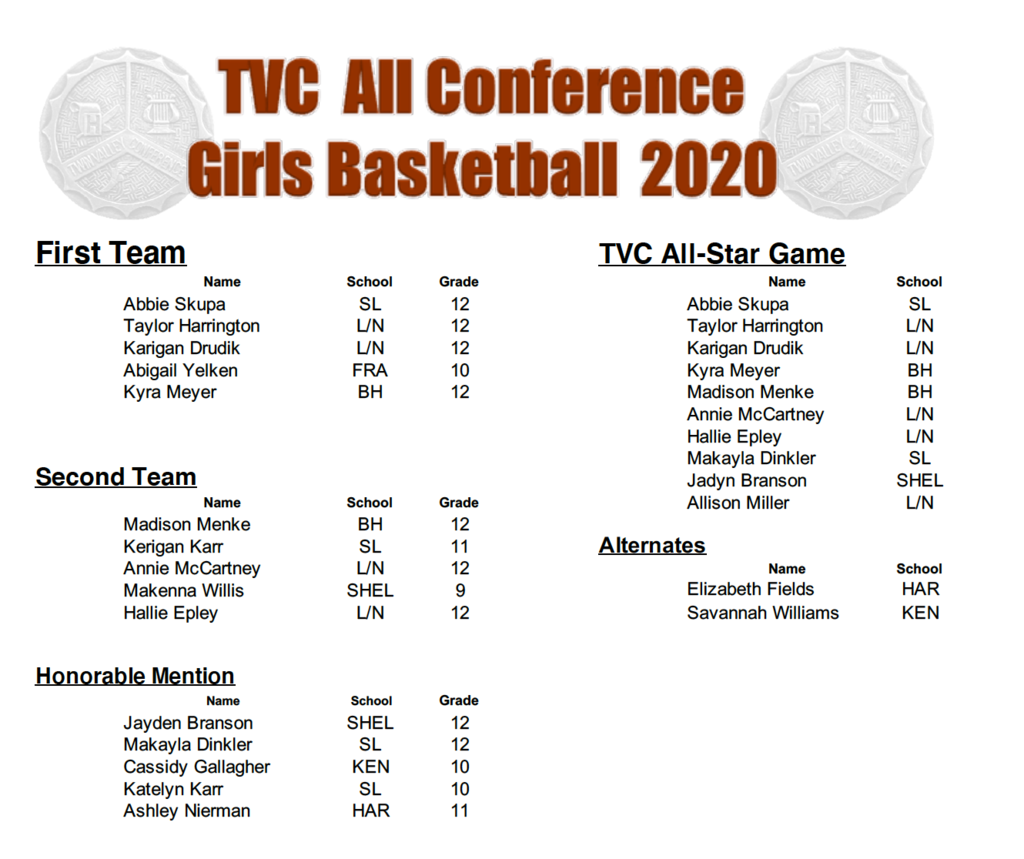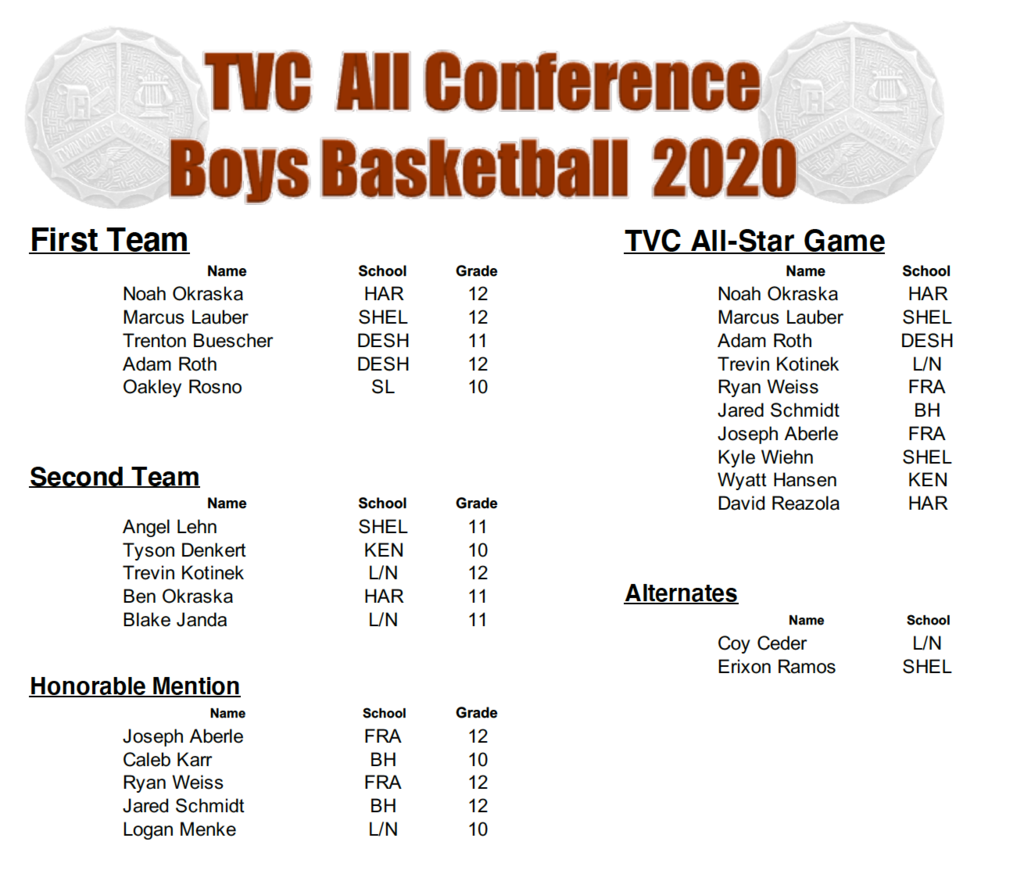 SCHOOL CLOSING Following recommendations by Dr. Matt Blomstedt and Gov. Ricketts, Franklin Public Schools will be closing at 2:00 pm tomorrow Tuesday, March 17 through Friday, March 27th. The current situation will be assessed each week and most likely will be in 2-week increments. Please understand that there is a chance we will be closed for longer than the two-week period. We ask that you practice social distancing and that it is taken seriously. Students should stay home and avoid gathering. We appreciate your understanding and apologize for the inconvenience this may cause. There will be no school work during this period and students 9-12 will not have access to their computers with the exception of the students taking college courses. Preschool will not be in session on Tuesday, March 17th.

Due to busy schedules, the TeamMates 7-12th grade Game Night scheduled for March 20th is being postponed until April 24th.

COVID-19 Information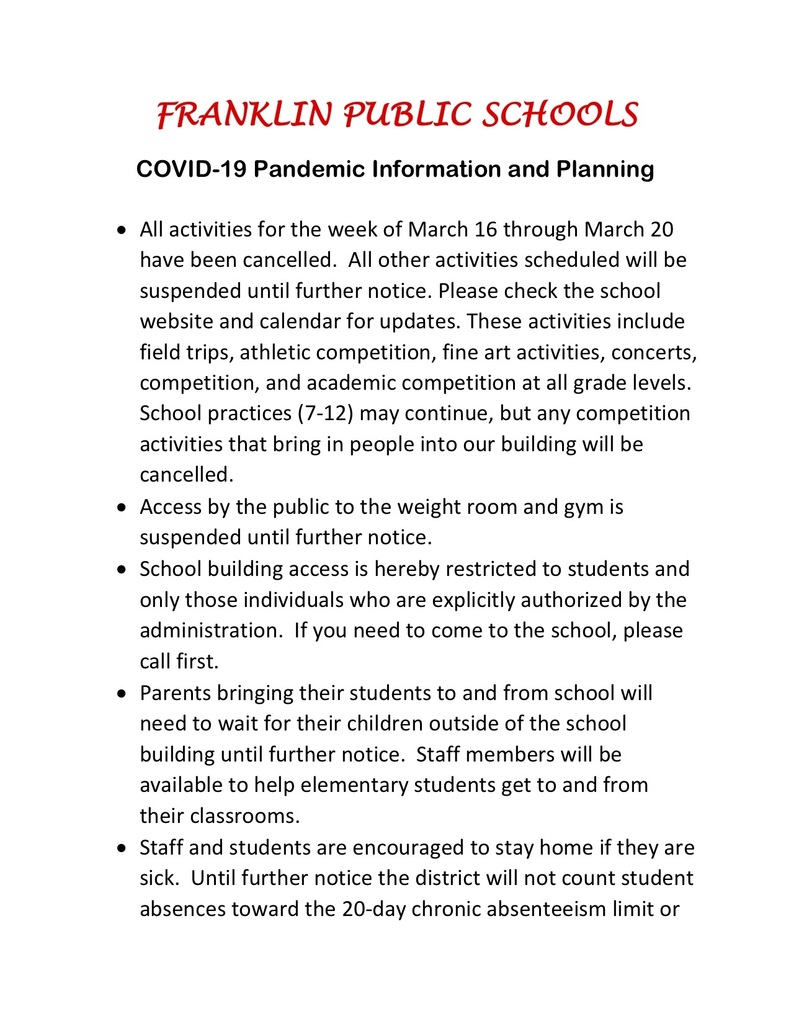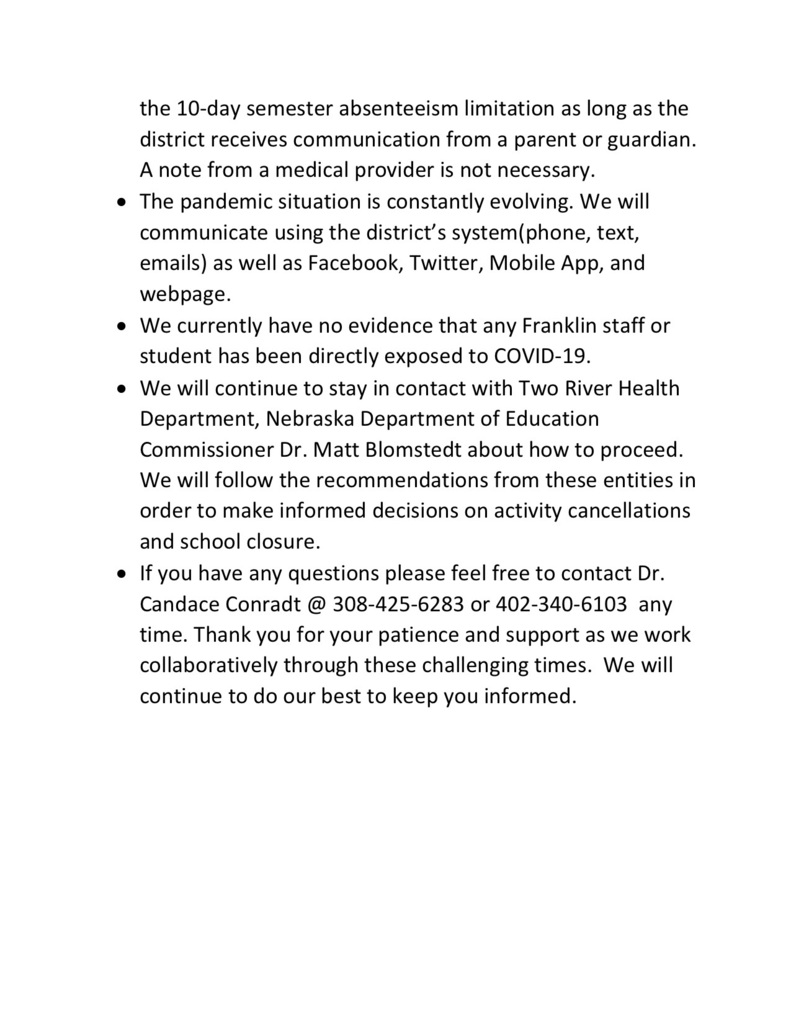 At Franklin Public Schools, we want to assure families that we are taking all the essential precautions and we have protocols in place to respond to any outbreak of COVID-19 within our Franklin Public Schools Community. We have been working closely with the Two Rivers Health Department and the Commissioner of Education as they monitor the situation and we will follow their advice to maintain the health of our students, staff, and community. Although many schools near the Metro area have canceled classes we have been advised to continue to hold classes as scheduled starting on Monday, March 16. If you have a child with underlying health issues and you are worried about his exposure to the virus while attending school please contact the building principal or me. Finally, if your child is running a fever and not feeling well please do not send them to school. Dr. Candace Conradt

The NSAA has suspended Speech districts and State meet at this time. We will put out more information regarding this event as we receive it. We regret to give you this information as our students as well as those from other schools have worked very hard this season. Thank for your continued support of the Flyer speech team.

ACTIONS Day results from CCC: Logan Wentworth-3rd place American Geography Asa Sinachack-1st place Drama and 4th place Music Joe Kahrs-2nd place Chemistry Tavin Uden-5th place American Geography Matt Ayres-5th place Sports Madalynn Welsh-1st place Zoology Taelyn Pritchard-3rd place First Aid Anthony Olson-4th place Capital Cities and 2nd place World War 2 Stephen Aberle-4th place Chemistry Congrats Flyers!!